VISUALIZATION
Here you can find some of the work we are developing on
visualization mechanisms for complex algorithmic architectural models
Selling the project is a fundamental task in architectural practice nowadays and allowing the client to experience that project, beyond the typical 2D representations, is an important step to achieving it. Digitally generated images, or render, offer precisely the visual experience required for architects and clients to better perceive how spaces will be when built.

Image: Astana National Library
Original Project by BIG
Astana National Library (ANL) | Original Project by BIG
In ADA we defend an algorithmic approach to the rendering task as well: adaptable visualizations that efficiently respond to the visualization demands of algorithmic projects. Our function library includes several cinematic operations that allow for the creation of algorithmically defined camera paths. This means camera positions and alignments follow the logic of the project, so that changes to the design entail corresponding changes in the visualizations.
ANL Outer Ring Walkthrough
ANL Inner Ring Walkthrough
The typical selling pack of an architectural project includes not only series of static shots from various angles to show the different aspects of the project, but also dynamic sequences, animations. Depending on the context, it may also be relevant to produce conceptual animations. A construction sequence, for instance, may be relevant to show the assembly chain that needs to be carried out during construction; or a shape/concept flexibility animation, which serves to present the shape variations the algorithms allow, or, in other words, the possible variations to the shape the architect was willing to consider.
We have developed ways of defiantly visualizing and navigation complex algorithmic models in near real time by coupling Game Engines (GE) to our workflow. GEs are optimized to provide, precisely, the realism and interactiveness in large indoor or outdoor environments that benefits big and complex architectural models.

Film: Astana National Library | Navigation in Unity
Original Project by BIG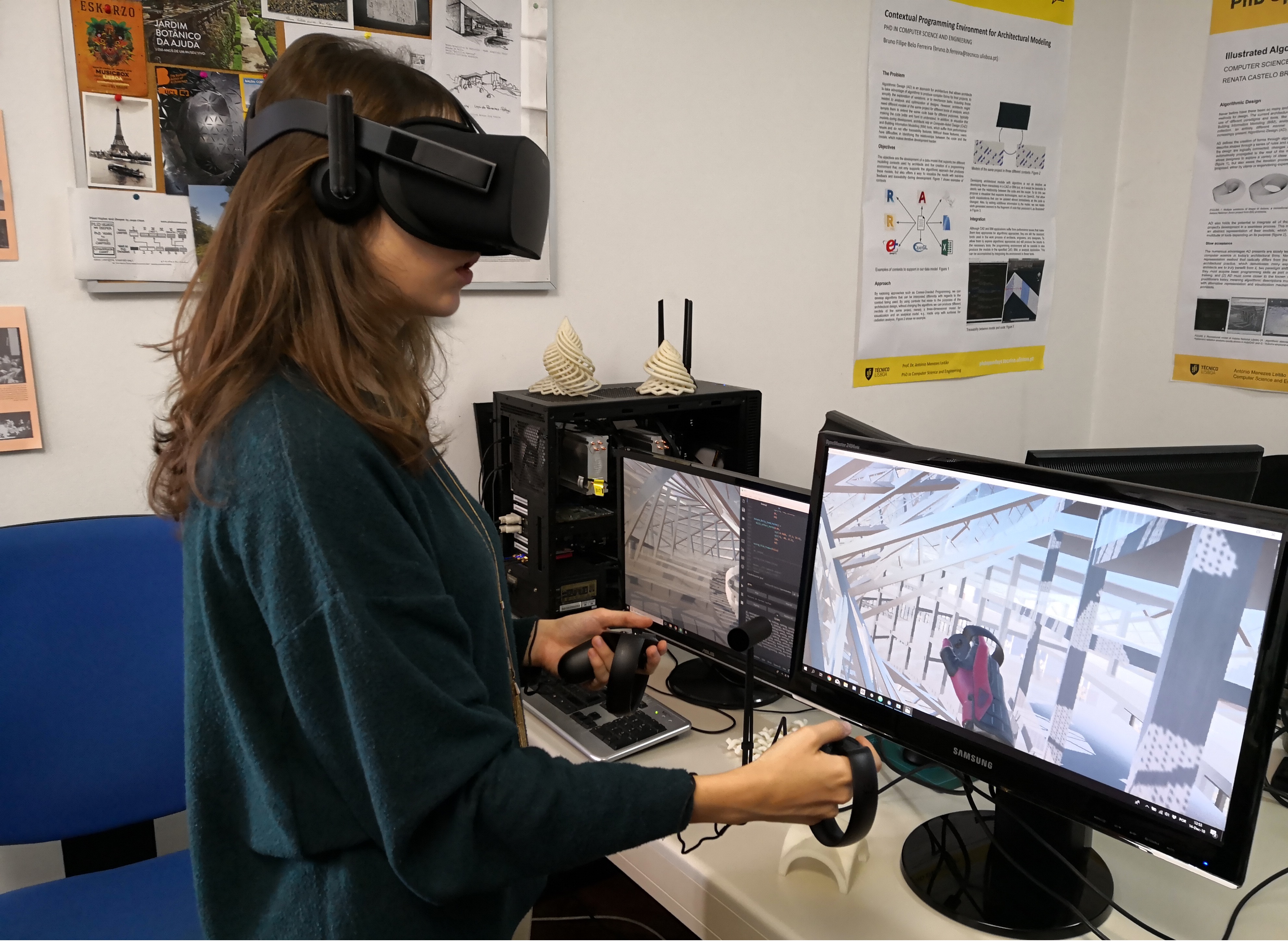 In Virtual Reality (VR) architects can interact with their creations in a deeply involved manner, as the three-dimensional medium can shape itself around the creator, facilitating perception and navigation. The coupling of Game Engines with our Algorithmic Design workflow allows for a straightforward integration of VR solutions.
Press to find out more about
our analysis work
Press to find out more about
our optimization work
Press to find out more about
our fabrication work